Biography of General Rufus Barringer

submitted by Susan Mundy
Note: this comes from a source that is in the public domain. See source at the bottom
Gen. Rufus Barringer, of Charlotte.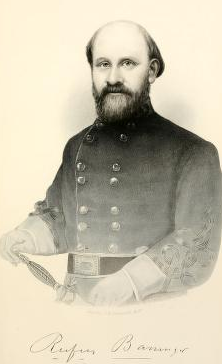 General Barringer is one of the most noted Republicans in the State; a man of strong convictions, bold utterances, and a fidelity to his principles. He was a strong Whig, and bitterly denounced succession as fraught with untold troubles and dangers to the country. Since the war he has been an earnest supporter of the National Republican party, but he has not degraded himself by his political bearing.
Notwithstanding his national proclivities, he remains devoutly true to the sentiments and memories of the Confederate cause. He writes often for the press in illustration and vindication of the cause as it then stood, and is most liberal and generous to its war-worn heroes and veterans.
He is a man of general culture; fond of literature and history, and has always been interested in political science. He has stood against the "Rip Van Winkleism" of the State, and labored hard for reform in many ways - especially judicial, agricultural and educational reform. He longs to see the young men of North Carolina coming to the front in something else than politics, and he believes the literature, and especially the history of the State, a most proper and attractive theme.
He is now much interested in Industrial Education, and is a trustee of the "North Carolina College of Agriculture and Mechanic Arts." As a specimen of his literary style and an explanation of the principles of Industrial Education, a portion of an article written by him for the Charlotte Chronicle, is copied:
"The leading object is not to teach trades, arts or science, as such, or for the purpose of turning out from schools artisans, agriculturists, trained cooks, skilled dress makers, or skilled machinists of any sort, but to instruct children and pupils, as a part of general education, in the elementary or foundation principles of all art, science, mechanics, and other practical knowledge; and this, not by teaching theories, but by learning "to do things." It is all on the principle of the Kindergarten, but extended to agriculture, domestic life, plain mechanics, the use of tools, etc., and simply to the end that the boy or girl, when so taught in his or her separate school, can the more readily take up. If desired in after life, any sort of business, or one specially suited to the particular line or talent distinctively manifested in the early training. True, the modern agricultural and mechanical colleges are intended primarily to make farmers and mechanics, but they do not teach them art as such, as a school of theology, medicine, or law, turns out its preachers, doctors, and lawyers. They only give them sound first principles in all departments of practical life; but they do this, not by theory, as in the old high school or college, but by showing the pupil how to do the things intended and putting them to doing them. And this again based on the aphorism of Bacon, that 'Education is the cultivation of a just and legitimate familiarity betwixt the mind and things,' and the more simple axiom of ominius, 'Let things that have to be done be learned by doing them,' and all summed up in the grand conception of Carlyle, that 'Tools constitute the great civilizing agency of the world.' 'Man without tools is nothing: with tools he is all.'
"The idea is very old, and lay at the bottom of the highest of past civilizations. But in time the so-called University system undertook to teach all knowledge, and finally drifted into nothing but abstraction, and caused Bacon again to say that the University, in fact, taught 'nothing but to believe.' Froebel fairly started the new movement by his Kindergarten, and now the whole industrial world marches with giant strides towards the 'Manual Training School,' and the 'Agricultural and Mechanical College.' It is not intended that these shall supersede the Academy,' the 'High School,' or the 'University.' The work of art and science, however, can be better and more satisfactorily taught in the shop and on the model farm, separate and distinct from all other teaching and training; thus, too, avoiding all class prejudices and difficulties.
"But the advocates of the old school must learn to recognize the just claims of the new methods. A feeling is abroad that the classic course has a tendency to slight and degrade work, and it certainly has had some effect in making labor a drudgery. It has not taught or trained either men or women 'how to do things,' how to accomplish the work of life, how to make success easy and pleasant. It has rather led the masses to believe that success is won more by wit and sharp ways than buy honest toil and healthful work, aided and made both agreeable and profitable by a skilled hand, a trained eye and a delicate touch. And thus it comes that no class amongst us is early or well trained in the work or business of life, and when the day of trial comes in real earnest, so many fail and give up in despair and disgust, often going to the 'ditch and the dogs,' to the great mortification of friends and admirers, and often to their ruin.
"A training or industrial school would be the very thing for Charlotte, and in due time it must come. But I also desire to see the idea introduced in our common public schools. It is not so difficult as supposed, and for the use and application of the elementary principles, the appendage of a small shop and kitchen, with a few tools and fixtures, would be all likely to be needed in the common free school for a long while. Of course the 'old fogies,' the 'professionals,' and all party politicians will cry 'innovation,' infidelity,' 'high taxes,' 'wild extravagance,' 'visionary notions,' and all sorts of hydra-headed monsters."
The subject of this sketch was born December 2, 1821, in Cabarrus county; educated at Sugar Creek Academy and Chapel Hill, graduating in 1842.
He studied law under Hon. D.M. Barringer and chief Justice R.M. Pearson; settled and practiced at Concord till 1866, and then at Charlotte till 1884, when he retired from he bar and went to farming.
He was in the Legislatures of 1848-'49 and 1850-'51; was a member of the Constitutional Convention of 1875.
He entered the army in 1861 as Captain of a company of cavalry raised by him in Cabarrus. In May of the same year, his company was attached to the famous First North Carolina Cavalry Regiment, with which he remained until June, 1864, when he was promoted from the Lieutenant-Colonelcy of that regiment to the position of Brigadier- General of Cavalry, in which he served until the 3d of April, 1865, when he was captured on Lee's retreat and sent to Fort Delaware, where he remained a prisoner of war four month.
He was in seventy-six actions, received three wounds, and had two horses struck under him. He was never defeated in action except in the last retreat, when his noble brigade was cut to pieces, especially at Chamberlain Run, Five Forks, and Namozine Church.
He came out decided for colored suffrage as early as 1865; accepted the Reconstruction Acts of 1867, and has ever since co-operated with the National Republican party. He has occasionally opposed the men and measures of that party, but has stood unswervingly by its principles, which he is honestly convinced are the only principles that can pacify and save the country in its new and changed conditions.
Source: Sketches of Prominent Living North Carolinians by Jerome Dowd.
Raleigh, N.C.: Edwards & Broughton, Printers and Binders, 1888.
pages 222-225